Dabur Triphala Churna
₹66.00
Dabur Triphala Churna is a time-tested ayurvedic formula that is a natural laxative and good for the digestive system. It has ingredients that help in colon cleansing and detoxification so you enjoy better digestive functioning. Stay healthy as your digestive system enhances and your stomach is cleansed with this churna.
Key Benefits
Mild and safe formula for treating digestive disorders.
Helps cleanse the colon.
Effective in eliminating the toxins.
Good for protecting the vital digestive organs.
Directions for Use
Take 3-6 gm of the churna with lukewarm water.
Or consume as per the dose recommended by your physician.
6 in stock
... people are viewing this right now
Compare
---
| | |
| --- | --- |
| Weight | 100Grams, 500Grams |
Related Products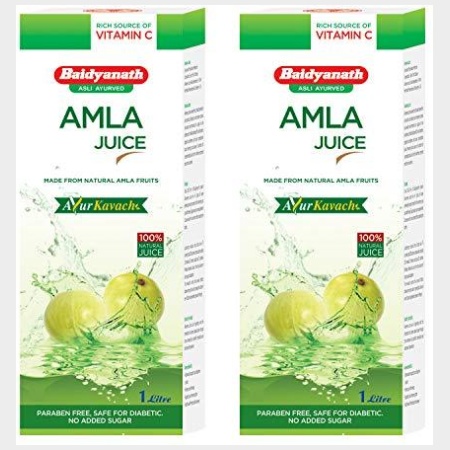 Baidyanath Amla Juice pack of 2
₹

440.00
Baidyanath Amla Juice has been extracted from fresh Indian Gooseberry or Amla to provide multiple health benefits for a better body and mind. Enriched with rich source of Vitamin C, Iron, Phosphorus, Folic Acid, Carbohydrates, and Calcium. The very high content of natural vitamin C strengthens immunity and helps in detoxification.
Immunity Booster:
Amla is an excellent source of Vitamin C, hence it helps boost your immunity, metabolism and prevents viral and bacterial ailments, including cold and cough.
For Strengthening and Growth of Hairs
Amla  is useful for hair growth and also to relive pigmentation, it help prevents dandruff, strengthens hair follicles and boost hair growth. Amla also acts as a natural conditioner .
Powerful Antioxidant
Amalaki's cascading antioxidant power makes it one of today's hottest super fruits. With an ORAC (Oxygen Radical Absorbance Capacity) value of 1770, Amalaki has almost twice the antioxidant power of acai berries and about 17 times that of pomegranate.(As per scientific literature).
Digestion and detoxification:
One of the best benefits of amla is that it has a high fibre content which works wonderfully for the digestive system. It's an effective remedy for constipation and piles.
Flushes out toxins
Amla keep the liver and kidney healthy by flushing out more toxins from the body.
Improves Eye sight:
Studies have showed that the carotene in     Amla improves vision. Daily consumption has also been linked to improvement in overall eye health as Amla can reduce cataract problem, intraocular tension (the pressure you feel) as well as prevent reddening, itching and watering of eyes.
Whatsapp
Compare