Khadirarishta-Baidyanath-450ml
₹190.00
Information about Baidyanath Khadirarishta
Khadirarishta is a combination of Svet-Jirak, Sonth, Motha, Jaiphal, Chaturjat, Ajwain, Kankol, Lavang, Dhataki Jaggary (Gud) etc.It is a liquid Ayurvedic medicine. It is also known by the terms khadirarishtam and Khadirarisht.
Khadirarishtam contains 5 10 % of self-generated alcohol in it. This self-generated alcohol and the water present in the product acts as a media to deliver water and alcohol soluble the active herbal components to the body. It is used in the treatment of Mahakushta all types of chronic skin diseases including leprosy, hrudroga cardiac disorders It is a good heart tonic, panduroga anemia, early stage of liver disorders, arbuda tumors, gulma abdominal tumor, granthi cysts, krumi intestinal worms, wound with infection, kasa cough, shwasa Asthma, dyspnoea, pleeha splenomegaly, udara Ascites.
Directions of use:-
15 to 30 ml with equal quantity of water or as directed by physicia
10 in stock
... people are viewing this right now
Compare
---
Related Products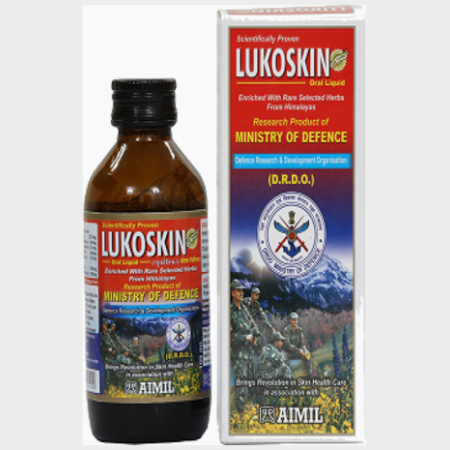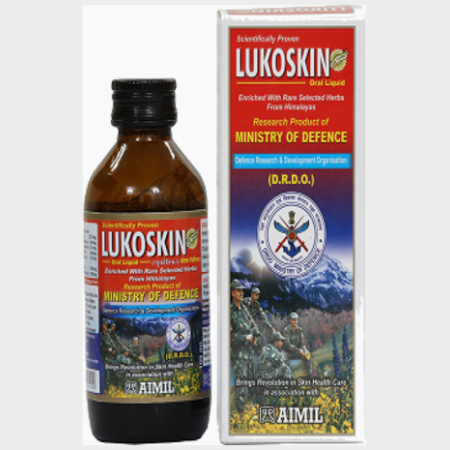 Lukoskin oral liquid 100ml
₹

610.00
Lukoskin Liquid is a polyherbal formulation used for Leucoderma/Vitiligo. Vitiligo refers to long-term skin condition characterized by patches of the skin losing their pigment.
Key Ingredients:
Bakuchi (Cullen corylifolium (L.) Medik)
Kaunch (Mucuna pruriens (L.) DC)
Ghrit Kumari (Aloe vera (L.) Burm.f.)
Krishn Tulsi (Ocimum americanum L.)
Bal Jadi (Arnebia benthamii)
Chameli (Jasminum officinale Linn.)
Til Kala (Sesamum indicum)
Directions For Use:

Adults: 1 to 2ml to be taken twice a day after major meals, diluted in 50 ml water

Children: 0.5 ml to be taken twice a day after major meals, diluted in 100 ml water or as directed by the physician
Whatsapp
Compare